ARMENIA-GERMANY SCHOOL EXCHANGE PROGRAMME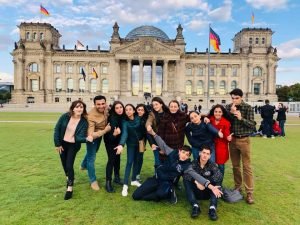 On September 7, in the frames of Armenia-Germany school exchange programme Memorandums of Understanding were signed between Gyumri "Youth Initiative Centre" NGO and Shirak State University High School SNCO, Gyumri Photon College, Gyumri N25 Primary School SNCO and Gyumri N1 High School SNCO. In the frames of the Memorandum 8 pupils and 4 teachers from the above mentioned educational institutions will participate in Armenia-Germany school exchange programme which will take place in Berlin from 12 to 23 September, 2019.
On September 17, in Berlin, within the framework of the "Armenia-Germany "school exchange program, the Armenian delegation visited the famous German special school" Karl von Lin", where about 1,200 students with disabilities study.
The 13-member Armenian delegation got acquainted with the activities of the school, the educational program, working approaches and tools, as well as had the opportunity to participate in practical classes on the correct use of wheelchairs.The aim of the project is to promote cooperation between schools in Armenia and Germany, ensure exchange of experience between pupils and teachers and formation of intercultural and inclusive education.
The project is implemented by Gyumri "Youth Initiative Centre" NGO (Armenia) and "Vorstand Acht e.V." (Germany) with the support of the German Ministry of Economic Cooperation and Development.