October 13, 2018
INTERNATIONAL TRAINING COURSE ON HOW TO DESIGN FACILITATE AND EVALUATE EDUCATIONAL ACTIVITIES IN YOUTH WORK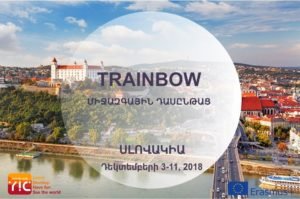 TITLE: TRAINBOW
PLACE: Kysak, Slovakia
DATES: December 3-11, 2018
The project aims at empowering and building up the competences of educational practitioners to design, facilitate and evaluate meaningful educational activities in value-based youth work, with a view to strengthen diversity and participation.
WHO CAN PARTICIPATE: Participants should be at least 18 years old youth workers, trainers, educators and facilitators who are interested in improving their skills and competences in the field of youth work.
PARTICIPATION FEE:
For more details, please read the infopack.
Working language is ENGLISH.
To apply for the project, please go through this link.
THE DEADLINE FOR APPLICATIONS IS: October 19th, 2018 by 13:00.
Should you have additional questions, please contact Valya Martirosyan at valya.martirosyan@yic.am or call the YIC office by the following phone number: 095 919197 (except Sunday and Monday).