FAREWELL EVENT FOR EVS VOLUNTEER AMALIE-CHARLOTTE REEDI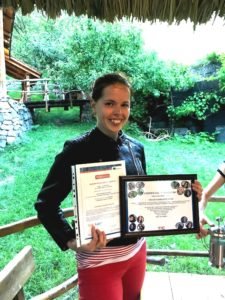 On June 25, 2018 the farewell event for  Amalie-Charlotte Reddi (Estonia) took place. Amalie used to do volunteering in Gyumri within the framework of European Voluntary Project (EVS) programme, has been a volunteer at Gyumri "Youth Initiative Centre" for a year organizing activities within the framework of "Friday's Café" and various events, holding the Handicraft Club at the "Mush" Development Center, teaching English at the "ASTER" Child Development Center and assuming the responsibilities of the administrative assistant in the "Youth House" Open Youth Centre.
During the event, EVS Coordinator Mariam Gharagyozyan awarded the volunteer with a Certificate of Appreciation and YouthPass for her work.