May 3, 2018
INTERNATIONAL TRAINING COURSE IN ARMENIA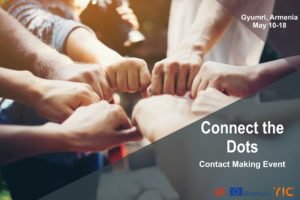 TITLE: "Connect the Dots"
PLACE: Gyumri, Armenia
DATES: May 10 -18, 2018
The Training Course is aimed at fostering cooperation between 24 representatives of EVS Organizations from Armenia, Germany, Estonia, Czech Republic, Poland, Georgia, The Netherlands, Moldova, Russian Federation, Italy, Spain and Belarus aiming at increased quality and innovation in EVS through the exchange of good practices.
The working language of the training course is ENGLISH.
Applicants should be at least 18 years old, EVS support people, EVS coordinators, EVS Mentors/Tutors and have experience in youth work.
PARTICIPATION FEE:
To apply for the project, please go through this link.
The deadline for applications is May 7th, 2018, by 18:00.
For additional questions, please contact the project coordinator Mariam Gharagyozyan at mariam.gharagyozyan@yic.am or call YIC office by the following phone number: 095 919197 (except Monday and Sunday).