November 3, 2017
GERMAN CLUB FOR BEGINNERS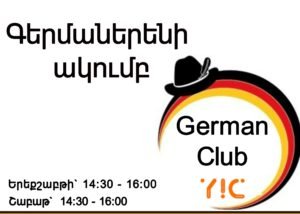 We are glad to inform, that Gyumri "Youth Initiative Centre" NGO announces a new German club for beginners.
The club will be led by EVS volunteer in YIC Merlin Zayfert from Germany.
If you want to learn German or improve your knowledge, then hurry up to register online through this link.
In case of questions call 095 91 91 97 (except Mondays and Sundays) or visit YIC office at Shahumyan 69 (Arevamanuk bld, 1st floor).
The deadline for registration is November 10.
The first meeting of club will take place on November 14, at 14:30.