April 11, 2017
INTERNATIONAL TRAINING COURSE ON PROJECT DESIGN AND MANAGEMENT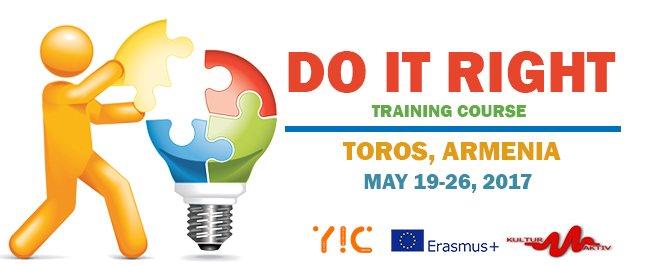 TITLE: "Do it Right"
PLACE: Torosgyugh, Armenia
DATES: 19-26 May, 2017
THE OBJECTIVES OF THE SEMINAR ARE: to develop competences of project managers on how to structurally design educational activities within KA1 projects of Erasmus+ programme by focusing on the aspects of its quality, monitoring, learning and evaluation.
WHO CAN PARTICIPATE: 
– Project managers / coordinators / assistants involved in youth field,
– EVS (European Voluntary Service) coordinators, mentors.
PARTICIPATION FEE:  25 EUR (in AMD)
There is no participation fee for YIC members and for participants nominated from institutions with agreement to YIC.
Working language is ENGLISH.
To apply for the project, please go through this link:
THE DEADLINE FOR APPLICATIONS IS: April 20, 6.p.m.
 Should you have additional questions, please contact project coordinator Gayane Arakelyan at gayane.arakelyan@yic.am or call the YIC office by the following phone numbers: 095 919197 or 0312 69497 (except Sunday and Monday).